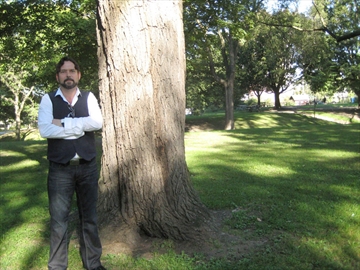 Florian Shuck stands in Dufferin Grove Park where a reflexology footpath is set to be built in memory of his partner, Jenna Morrison, the 38-year old expectant mother who was killed while riding her bike in November 2011.
Staff photo/LISA RAINFORD
Avid cyclist, park user Jenna Morrison was killed when a truck struck her while riding her bike
By 
Lisa Rainford
Florian Shuck couldn't be more pleased with the City of Toronto's support and enthusiasm for the creation of the reflexology footpath to be built in memory of his partner, Jenna Morrison.
Morrison, a 38-year-old expectant mother, was a yoga instructor and health practitioner, who was riding her bike on her way to pick up their five-year-old son from school when she was struck and killed by a truck at the corner of Dundas and Sterling November 2011. Since then, Shuck has designed a footpath to be built in Dufferin Grove Park likely in the spring of next year.
"I didn't have to propose to the city and push this project through," said Shuck, standing in the south end of the park near Gladstone Avenue and Sylvan Street where the footpath will be constructed. "I was pleasantly surprised, happy, with the support I had immediately."
According to Davenport Councillor Ana Bailao, the footpath is officially a go and almost completely funded, she announced at her recent community barbecue. Proceeds from the event went toward the footpath as well.
"Jenna was very active in this park. It is the park we most frequented as a family," said Shuck, who explained that the location within Dufferin Grove was chosen for its flat surface, its distance from Dufferin Street and its proximity to the playground. Although the path will take a loop design, its concept does not demand a particular size.
"It's fairly flexible," Shuck said. "I'm thinking 140 feet in length by 60 feet in width."
It could include benches, possibly a pavilion and a foot-washing element, but this has yet to be determined. The concrete cement walkway with different sizes of cobblestones will massage different pressure points, explained Shuck. The city is in the midst of soliciting bids from different companies and anticipates a two to three-week selection process. Collaborating with a landscape architect, Shuck says he'll have his vision translated within a few days.
"I hope that by the end of November we'll have finalized the drawings and then have a company manufacture it in the spring. The aim is to have it implemented in the spring of next year," he said.
The reflexology path captures Morrison's spirit, said Shuck.
"It relates to our life story," he said.
On a visit to Seoul, Korea in 2001, Morrison, who lived in the Dundas Street West and Sorauren Avenue area, discovered the widespread popularity of reflexology footpaths throughout Asia. Struck by this notion, Morrison dreamed of creating such a footpath in one of Toronto's public parks.
"For me, my son, it's a landmark that will help us come to terms with acceptance and loss," Shuck said.
Shuck has no desire to install a memorial plaque on the path, in part because he says he'd like it to belong to the community, however, it will incorporate Morrison's initials. While he's not exactly sure how the path will look once completed, he knows one thing's for sure.
"My son will be the first to walk on it," he said.
If you would like to make a donation, visit torontoparksandtrees.org/jenna-k.-morrison-memorial
Do you like this post?