Dear neighbours,
Over the past month, our community has been filled with festivities. It was great to speak with so many of you at our neighbourhood school fairs, compost pickup days and events including the first ever Junction Triangle Pride Picnic celebrating Pride Month in Toronto! June is also Portuguese Heritage Month in the City of Toronto and it was great to be joined by so many of our Portuguese cultural groups and organizations at the Portugal Day Parade on Dundas to celebrate the rich culture, traditions and heritage of Toronto's Portuguese community. Thank you to all the volunteers, residents and organizations who work so hard throughout the year to bring our communities together to showcase and share what's makes our city such an incredible place!
Last Sunday, we broke ground on our new 10,000 square foot Junction Triangle library at 299 Campbell (corner of Dupont and Campbell)! I am so proud of what we have accomplished together to significantly expand our small, but well-loved Perth/Dupont Toronto Public Library Branch and I want to thank all the residents who have shared their ideas and support. We will be hosting a community open house on Thursday July 19 at 7pm at the Perth-Dupont Library (1589 Dupont St) to receive your feedback on the interior design concept and direction of the library and I hope to see you there.
Last week, the FIFA 2018 World Cup tournament officially kicked off and the colours and flags of our teams are adding vibrancy across our community. With the strong and growing soccer spirit in our city, I am also proud to share that the FIFA 2026 World Cup will be coming Toronto as part of the joint Canada, USA and Mexico bid with Canada hosting up to 10 games for the tournament. I look forward to seeing you in our neighbourhoods supporting and celebrating our community's teams!
At City Hall this month we also made important making progress to bring laneway suites to Toronto. City Council will be voting on the item later this June and I am hopeful that we will be successful. City Council will also be voting on the proposed changes to Community Council boundaries, and I firmly believe that any changes must reflect the local community characteristics including keeping our neighbourhood together. I voted against the proposed change to move the part of Ward 18 north of Bloor St into the Etobicoke-York Community Council area for this reason at Executive Committee and will continue to advocate for our community at City Council.
At Executive Committee this week, I also voted in support of accelerating funding and implementation of Toronto's Vision Zero Road Safety Plan. The recent tragedies on our streets are unacceptable and following my previous votes to ask our City Staff to accelerate safety improvements as fast and effectively as possible. I am hopeful that City Council will also vote to accelerate these efforts.
My latest paper newsletter has also arrived in mailboxes across our community and I encourage you to review it for the latest updates on numerous projects, road safety measures, developments and events in our community. In order to download an electronic version of the newsletter, please click on the image below.
Sincerely,
Ana Bailão
Deputy Mayor
Councillor, Ward 18 - Davenport
Local Updates
St Clair West Transportation Mater Plan Update
The City of Toronto is carrying out a Transportation Master Plan (TMP) to examine solutions to improve transportation connections and accessibility in the area around St. Clair Avenue West between Keele Street and Old Weston Road for all road users including cyclists, pedestrians, transit users and vehicles. The City's preliminary recommendations include 4 infrastructure improvements: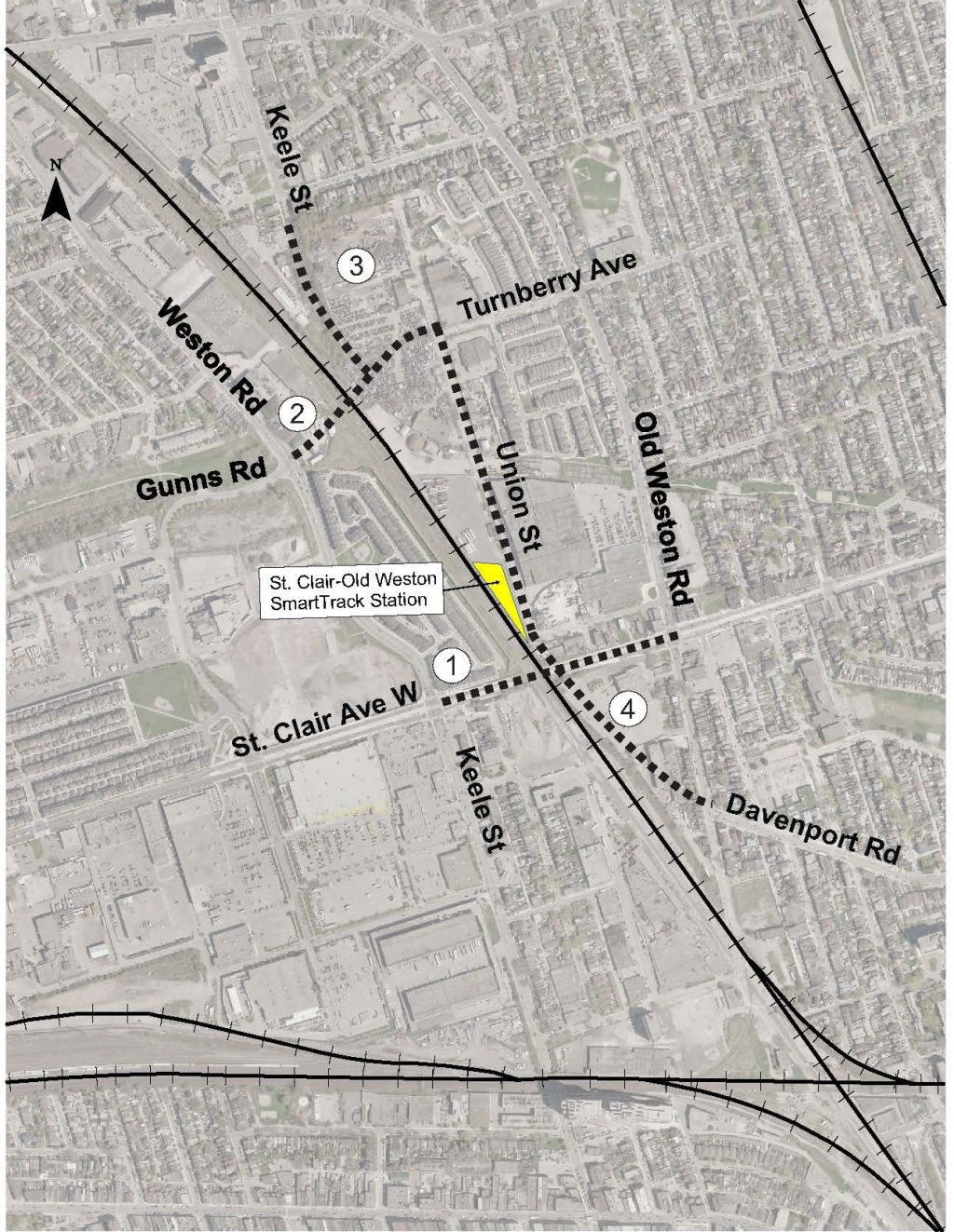 1. Widen St. Clair Avenue West
2. Extend Gunns Road to Union Street
3. Extend Keele Street to meet the Gunns Road Extension
4. Extend Davenport Road to Union Street
The City is working closely with Metrolinx and TTC to develop the early design of a new St. Clair-Old Weston SmartTrack Station. The infrastructure improvements identified through the TMP will support access for buses, pedestrians, cyclists, and passenger pick-up/drop-off to the Station. You can learn more about these improvements at www.toronto.ca/stclairwesttmp and at two upcoming open houses taking place on Saturday June 23, 1-3pm at The Symes (150 Symes Rd) and on Monday June 25th 6-8:30pm at Joseph J Piccinnini (JJP) Community Centre (1369 St. Clair Ave W)
Lansdowne Station Open House
As you may know. the TTC will be undertaking major accessibility upgrades at Lansdowne Station starting in 2019. As part of this work, the TTC has agreed to my request to install and overhead canopy on the east side of Lansdowne Ave to add better weather protection for the thousands of daily northbound bus riders waiting to finish their journey home. A preliminary image of what the canopy could look like is included below. Earlier this month, the TTC held a community meeting to share more information on this project with residents, including station designs, construction phasing and public artwork. To view the presentation, please click here.
Demolition Update for Old 14 Division Building
The abatement at the old 14 Division commenced on March 12, 2018 and has been completed. Demolition of the building is commencing and is expected to continue for three weeks. Measures are currently in-place to ensure that the site is safe and in accordance with Ontario Regulation 278/05, under the Occupation Health and Safety Act to ensure any hazardous materials are contained.
You can learn more about the City of Toronto's Facilities Management construction process by contacting [email protected]. City Staff are committed to providing regular updates about the redevelopment process and we will continue to update you as they become available. In the meantime, please be advised trespassing and parking is not allowed on the premises.
McCormick Park Cafe Re-Opening on June 21st!
I am happy to share that the McCormick Park Cafe is re-opening on June 21st! With a new menu of freshly made goods, and an emphasis on local foods, there is sure to be something for everyone! Operated in partnership with non-profit organization, Aangen, the cafe is a fantastic place to grab a bite and support important community building work!
El Pescador Mural Project on Dundas West Honours Local Portuguese Heritage
I am happy to share a new mural is coming installed to 1357 Dundas St W (near Beaconsfield Ave)! Titled El Pescador, the mural depicts a traditional portuguese Fisherman and honours the neighbourhood's rich Portuguese heritage. The mural marks the latest creative collaboration between the City of Toronto's StreetARToronto program, Creativo Arts Collective, the Valparaiso Creative Cities Exchange, Dundas West Festival, and Lula Lounge. Thank you to the incredible artist @pablowesto and community members for the tireless dedication to beautifying and a celebrating the rich culture of our community!
Call for Artists for New Oakwood-Vaughan Neighbourhood Health Clinic!
Unison Heath & Community Services is seeking artwork for a new health clinic in the Oakwood-Vaughan neighbourhood and will be holding an information session on Wednesday July 4, 2018 4:30pm at the Oakwood Village Library (341 Oakwood Ave). For more information, please see the notice below or contact Sapphire Chaisson, Community Health Promoter, at [email protected] or 416-277-1459.
Events
31-37 Gladstone Ave Community Consultation Meeting - Wednesday June 20, 2018 starting at 6:30pm
The City of Toronto is hosting a community meeting to share details and hear from residents on the proposed development at 31-37 Gladstone Ave. You can submit your comments by emailing them to the City Planner, Aviva Pelt directly at [email protected]
SmartTrack/GO RER Stations Online Town Halls - Thursday June 21, 2018  from 7-8pm
Metrolinx, the City of Toronto and TTC are hosting online town halls, to provide an update on the work underway, including environmental studies, for the new SmartTrack/GO stations. You will also have the opportunity to ask questions and provide comments about the project. Each of the townhalls will focus on a different set of stations and you can view and interactive map of them at smarttrack.to/socialpinpoint.
To attend the live, online town halls, come back to this webpage (smarttrack.to/townhall) or call 800.457.6180 (toll free) during the times listed above. Can't attend live? Rrecordings and transcripts of the online town halls will be uploaded to: smarttrack.to and www.metrolinx.com/newstations
Wednesday, June 20, 2018
7:00 pm – 8:00 pm
Station Focus: Gerrard-Carlaw and East Harbour SmartTrack Stations and Spadina-Front GO Station
Thursday, June 21 2018
7:00 pm – 8:00 pm
Station Focus: St. Clair-Old Weston and King Liberty SmartTrack Stations and Bloor-Lansdowne GO Station
Community Environment Day - Saturday June 23, 2018 from 10am to 2pm at Dufferin Mall Parking Lot (900 Dufferin St)
Drop off you hazourdous household wastes, donate lightly used goods for school use and pickup some free compost for your garden!
FPCCC Summer Festival - Saturday June 23 at 5pm at First Portuguese Canadian Cultural Centre (60 Caledonia Rd)
Join the festivities June 23rd for Saint John's Day "Dia de São João" a traditional celebration from Portugal. This event is a fantastic opportunity to meet your neighbors, learn more about our community, and enjoy an exciting day filled with delicious Portuguese food! There will be a small market, great live entertainment and fun activities for the whole family!
For more information, please visit http://www.firstportuguese.com/
St. Clair West Transportation Master Plan Open House 2 - Monday June 25, 2018 from 6pm to 8:30pm at Joseph J Piccinninni (JJP) Communtiy Centre (1369 St Clair Ave W)
The City of Toronto invites residents to learn more about the St Clair West Transportation Master Plan and preliminary recommendations at two upcoming open houses drop-ins. To learn more visit, www.toronto.ca/stclairwesttmp
Bingo in Bloordale - Thursday June 26, 2018 at Bar Neon (1226 Bloor St W)
Play a round of bingo and help support local art on Bell boxes in Bloordale!
Big On Bloor Festival - Saturday July 21, 2018 from 12noon to midnight on Bloor St W between Dufferin St and Lansdowne Ave 
Live Music, art installations, performances, vendors and activities for all are taking over Bloordale on July 21st! Come out with friends and neighbours for an amazing festival and showcase of our community. For more information, please visit  http://www.bigonbloorfestival.com/
Open Roof Festival - June 20 to August 22, 2018 at 158 Sterling Rd
Enjoy a movie under the stars all summer long! Click the image for a larger view and for more information, visit www.openrooffestival.com/
News Clippings
Ground Breaking Marks Construction Start for 299 Campbell Ave – Urban Toronto
Approval of laneway housing plan a small step toward addressing Toronto's massive housing needs – Toronto Star
Policy on laneway housing in Toronto clears important hurdle – Globe and Mail
Important Notices
File Toronto Police Reports Online
Toronto Police remind residents that they can report traffic concerns, damage to property, graffiti etc online through the Primary Report Intake, Management and Entry Unit (PRIME) - Citizen Online Report Entry (CORE).
To file a report and learn more about this service, visit www.torontopolice.on.ca/core
Track Your Water usage and Find Ways to Save!
With summer almost here and warmer weather on the way, the City of Toronto is reminding residents that they can track their water use online with MyWaterToronto, the City of Toronto's online water use tool. Use the tool to track your water use by day, week, month or year, to better understand your water use habits and look for ways to save. The tool can also be used to identify prolonged and unexplained water use increases, which can mean you have a leak. You will need your utility bill to sign on to the tool. To learn more and get started, visit www.toronto.ca/mywatertoronto.
Do you like this post?